Watermill Los Telares Ethnographic Exhibit and Small-Group Tour
Europe » Spain » Canarias » Hermigua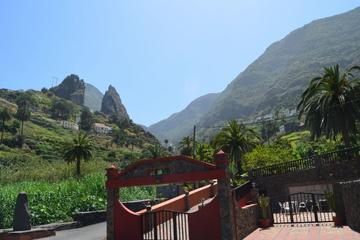 Duration: Flexible
Departs: Hermigua, Spain
Price from USD 2.79
Book Now
The Gofio Watermill 'Los Telares' boasts the largest and most important collection of Gomeran antiques. It is the only remaining traditional watermill on the island. By viewing the everyday items, you will discover the past life cycle of the Gomerans, their way of life and be in awe of their iron-clad will, that carved the peaks of La Gomera into the barely accessible stone terraces you see today.
In one location, a local handicrafts and delicatessen store, a traditional orchard and a restored Gofio Mill with a large antiques collection exhibition. La Gomera is an island which, up to 30 years ago, most of it's economy and lifestyle was linked to agriculture and farming. Still deeply settled in their culture, it is a basic insight in the spirit and landscape of an island that still feels like settled in ancient times.
In this open farm and exhibit you can learn and see how the Gomerans lived, survived and worked. By the ancient convent and Hermigua original settlement surrounding the river, it is an exceptional landscape of palm groves, cornfields and small family houses.
Only 30 minutes away from San Sebastian and the main seaport of La Gomera, Los Telares has been for years an unmissable touristic spot. The North Route (GM-1) will bring you through the most authentic landscapes of La Gomera, including the 400-years-old convent of Santo Domingo, the beautiful davits of Hermigua or Vallehermoso, the town of Agulo or Garajonay National Park visitor center.
« All Activities